Profile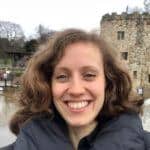 Bogdana Huma
Curriculum Vitae
Education

German 'Goethe' college (Bucharest); University of Bucharest (Romania); Loughborough University (UK)

Qualifications

BA in Sociology; BA in Psychology; MA in Sociology; PhD in Sociology; PhD in Social Psychology

Work History

Current Job

Employer
Favourite thing to do in my job: Creating new knowledge and getting to share the excitement of scientific discovery with students

About Me: I'm a social psychologist, a feminist, and a bit of a nerd

Read more

I recently moved to York from Loughborough where I did my PhD between 2014-2018. I currently live with my boyfriend in a flat, in the centre of York which is great because there are so many shops within walking distance and I'm a bit of a shopaholic ☺️

I really enjoy reading but as I don't have a lot of time to read books, I often listen to audio books. My favourite genre is celebrity autobiography read by the authors. The book I'm listening to now is The Princess Diarist by the late Carrie Fisher.

While doing my PhD, I also took up knitting and running. In 2017 I ran a half-marathon and I'm hoping to enter another race in the near future.

My pronouns are she/her.

My Work: I'm a lecturer in social psychology at York St John University

Read more

As a lecturer, my work consists mainly of teaching & researching.

I teach social psychology which is an area of psychology that looks at social interaction between individuals. This can range from positive aspects of interpersonal behaviour such as prosocial and altruistic behaviours to the dark and ugly sides of human nature such as aggression, violence, prejudice, or discrimination.

My research focuses on persuasion and social influence and, in particular, on persuasion in real-life sales encounters. I'm interested in discovering how salespeople are able to sometimes trick us into spending more money than we had planned, or into buying products we don't want/need. I'm also looking at how customers respond, especially those who are resisting these sales attempts. Ultimately, I'm aiming to develop workshops for the general public on how to become more resistant and resilient to persuasion in sales.

I'm using a research method called discursive psychology. It means I start by looking at how people talk (discourse) because language is the main resource we draw on when interacting with others. This method relies on recording real-life interactions, transcribing, and analysing them.

My Typical Day: Every day is different and exciting

Read more

So far in my job, no two days have been the same, which is great because everyday brings new and exciting challenges so I never get bored.

My work days include a mix of: preparing teaching materials, lecturing, meeting with students, giving feedback on students' work, reading research articles, writing papers, transcribing data, meeting with colleagues, and exchanging emails.

Read more

I'd like to use the prize money to develop a workshop on 'resistance to persuasion' for the general public.
My Interview

How would you describe yourself in 3 words?

curious, adventurous, direct

What or who inspired you to follow your career?

one of my undergraduate lecturers

What was your favourite subject at school?

languages

What did you want to be after you left school?

a counselling psychologist

Were you ever in trouble at school?

yes, a few times, but I managed to talk my way out of it

If you weren't doing this job, what would you choose instead?

I'd probably be a lawyer

Who is your favourite singer or band?

Queen

What's your favourite food?

ice cream (yes, that IS food)

What is the most fun thing you've done?

I went on a two week trip around Europe with my best friend

If you had 3 wishes for yourself what would they be? - be honest!

I'd wish for all human beings to embrace feminist values; I'd wish for the threat and effects of global warming to disappear; I'd wish for more time to spend on my hobbies (reading, knitting and running)

Tell us a joke.

Three baseball umpires are asked about how they call balls and strikes. The first one says: "There's balls and there's strikes. I call them as they are". The second one says: "I call them as I see them". The third one says: "They're both wrong. Until I call them, there's no balls nor strikes".
My profile link:
https://ias.im/u.220016
---
---