Profile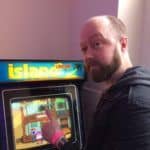 Chris Fullwood
My CV
Education

I did my GSCEs and A-Levels at South Craven college in Keighley, West Yorkshire. Before that I was at school in America (Florida) where I spent two years at Ben Hill Junior High and one year at Gaither High School (Go Cowboys!!). When I finished my A-levels I went to study Psychology at the University of Stirling in Scotland and then did my PhD there too.

Qualifications

I have 3 GSCEs in Mathematics, English Language and French – I only took 3 GSCEs because I was living in America at the time I would have normally taken them. I did A-levels in Classical Civilisations (B), English Literature (C) and Psychology (B). I got a 2-1 in my Psychology Undergraduate degree and a PhD in Psychology.

Work History

When I was younger I did lots of different types of jobs, including working as a cashier at Woolworths (yes, I'm that old), a basketball coach at my local leisure centre and making pies! After I graduated with my PhD, my first job was as a demonstrator in Psychology at the University of Wolverhampton. I was then promoted to lecturer and more recently I was promoted to an associate professor.

Current Job

Associate professor in Cyberpsychology

Employer

I work in the Department of Psychology at the University of Wolverhampton.
About Me:

I live in Worcester and work in Wolverhampton. I have lots of pets (dogs, snakes and a hamster) and enjoy listening to music and playing video-games.

Read more

I live in Worcester with my girlfriend, who is a vet. We have 2 dogs (Shih Tzus) called Buddy & Roscoe, 2 snakes (a Boa constrictor and a carpet Python) called Astrid & Rorschach and a hamster called Maurice. I enjoy listening to all different types of music and I play bass guitar, although my dreams of being a famous rock-star are well behind me now! I enjoy reading comics and playing video-games and I'm a huge fan of Game of Thrones and the Walking Dead. I spend too much time on Twitter and love to cook. Here are my dogs Roscoe & Buddy.

My Work:

I work as a cyberpsychology researcher and lecturer at the University of Wolverhampton.

Read more

I work as a cyberpsychology researcher and lecturer at the University of Wolverhampton in this lovely building.

Cyberpsychology is all about understanding how people use different types of technology and how they can change the way they behave, for example the Internet, virtual reality and video-games. For my job I get to spend lots of time talking about different areas of Psychology with students of different ages. I also teach statistics, but this isn't usually the most popular subject that I teach! I get to teach in lecture theaters like this, but there are normally more students there 🙂

I do lots of really interesting research to help answer questions like: is spending too much time using smartphones bad for us? Why do people use social media? How do people get dates on online dating sites? Are video-games addictive? What's the point of using emojis? Can we use virtual reality to help people overcome their phobias? I supervise PhD students so that they can become lecturers and researchers like me. I also write books about Cyberpsychology and this is my latest one!

My Typical Day:

My typical day involves reading (lots) of emails, teaching students about cyberpsychology, attending meetings to talk about our research, talking to journalists about my research, analysing data that I've collected and writing research papers.

Read more

I'm very lucky because my job is very diverse and no two days are the same. Typical things that I do in my job include: teaching students about cyberpsychology, helping research students to design projects and talk to them about their findings, design my own research projects, analyse any data I collect and write up the findings for journals or books, and present my research findings at conferences to other researchers like me. I also write blogs about my research and get to talk to journalists about different topics that I've done research on. For example, I've spoken to journalists about the different kinds of ways that people use emojis and people who bully others on the Internet.

What I'd do with the prize money:

Fund some school students to come and spend a week with me in my cyberpsychology lab to help me with my research

Read more

If I was lucky enough to win the prize money, I'd like to spend it on giving some school students the opportunity to spend a week working with me in my cyberpsychology research lab. We'll get to use all the cool gadgets and technology that I have in the lab (including video-game consoles, virtual reality and eye tracking goggles) and come up with some research projects to investigate an area of cyberpsychology that interests these school students.
My Interview

How would you describe yourself in 3 words?

Silly, imaginative, geeky

What or who inspired you to follow your career?

My undergraduate project supervisor (Gwyneth Doherty-Sneddon). Her passion for research inspired me to become a researcher

What was your favourite subject at school?

Definitely not P.E! Probably English Literature.

What did you want to be after you left school?

A comic book artist

Were you ever in trouble at school?

Never, I was far more well-behaved then than I am now :)

If you weren't doing this job, what would you choose instead?

Either a chef or an anthropologist

Who is your favourite singer or band?

Calexico

What's your favourite food?

Mexican

What is the most fun thing you've done?

Played live with my band at a (very small) music festival

If you had 3 wishes for yourself what would they be? - be honest!

To be happy, to always remain intellectually curious and for my hair to grow back!

Tell us a joke.

My girlfriend is really mad at the fact that I have no sense of direction. So I packed up my stuff and right.
My profile link:
https://ias.im/u.220110
---
---