Profile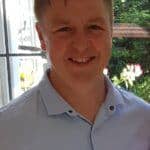 Ian Cookson
Curriculum Vitae
Education

The Open Univeristy, Staffordshire University

Qualifications

BSc Hons in Psychology (2:1), MSc Sport and Exercise Psychology (Distinction)

Work History

Various printing and marketing companies. For the past 10 years I've been at Makro the wholesalers. Currently "working" at Manchester Metropolitan University on my PhD

Current Job

Customer Communications Co-ordinator (Makro)
Favourite thing to do in my job: Talking to other psychologists

About Me: Sport mad, outdoor loving, PhD student.

Read more

Originally from Preston, but live near Stockport with my wife, two children (both in their teens) and a sprocker spaniel called Poppy. Huge sports fan, mainly football (PNE), but love cycling and rugby, although I've an interest in most sports! I only started my training as a psychologist in my late 30's after working in printing/marketing for about 15 years. Not many people know this but I'm also pretty good at art, which is how I ended up working in print!

My Work: PhD student (MMU) looking at social identity and transport choice (cycling)

Read more

My PhD is around how we can understand transport choices, particularly cycling using the social identity approach and group processes. So, our social identity is, simply put what groups we belong to, and how that influences our behaviour. My research will be three different studies looking at how transport users are represented in the media, then asking groups to discuss what this means to them and finally an exploration of peoples experience of cycling in Manchester.

My Typical Day: Books and more books

Read more

Wow, well my work is pretty much research based at the moment. Still in the early stages of planning my PhD, and so I have a proposal which has been approved, but I still need to detail the design of the three studies that make up the PhD, submit my ethics proposal, and decide on methods.

So there's a lot of reading, and really trying to understand different theories and methods that will make up the PhD. I also still work part time (ah the joys of being a mature student), but if I was in the University I'd cycle in, review my previous days work to see if there's anything specific I need to do and then get to work reading and taking notes. That's pretty much it at the moment!

What I'd do with the prize money: Fund purchasing of inforgraphics from believepeform.com

Read more

There's a lack of visibility in schools of psychology and what a psychologist does, in whichever specialism they work. So I'd like to improve that visibility, get school children talking about psychology, which I also think would have a beneficial effect on discussions around mental health and emotional intelligence. I'd like to use the potential winnings to buy infographics from believeperform.com. Its founder Chris Shambrook is a leading performance psychologist, and they have produced a library of infographics that can be displayed in school in different areas such as PE, or exams etc. I also think there could be a website developed specifically for psychologists to engage with school children, but it might be beyond the budget!
My Interview

How would you describe yourself in 3 words?

Enthusiastic, logical, sporty

What or who inspired you to follow your career?

My Aunty who is a life coach helped me decide on psychology

What was your favourite subject at school?

Art or PE

What did you want to be after you left school?

I didn't know really, although I thought it might be an architect

Were you ever in trouble at school?

No, my parents would have killed me!

If you weren't doing this job, what would you choose instead?

Sports coach

Who is your favourite singer or band?

Kings of Leon

What's your favourite food?

Home made burgers

What is the most fun thing you've done?

Driven across the Golden Gate bridge with my brother

If you had 3 wishes for yourself what would they be? - be honest!

My son to be healthy (he's got Chronic Fatigue Syndrome), not have any back pain, see Preston promoted to the premier league!

Tell us a joke.

There's a sausage and egg in a frying pan, the egg says "ooh it's hot in here" and the sausage screams "AH!! A TALKING EGG!"
My profile link:
https://ias.im/u.220019
---
---